Question
I've invited my learners to my course by sending an email invitation. I'm hearing from some learners that they did not receive the email invitation. What should they do?
Answer:
There could be couple of things happening causing your email invitations to not be delivered to your learners as expected. Sometimes these emails get stuck in Spam or Junk folders, so have your learners check there first, just to be sure they aren't lost there. If they find your invitation emails in their Spam/Junk folder, just have them unmark that email as Spam and they will be good to go.

Emails not in the Spam/Junk folder? No worries, there's a couple other things you can try to be sure the emails are delivered.

Have you tried...

Add SCORM Cloud's email domain to your allow list? Be sure to add cloudmail.scorm.com to your list of trusted senders.

Have you tried...

Adding our IP address for our email account to your network? If your network monitors emails by IP address, make sure you allow emails from 198.37.151.39
Another Option...
We've recently added the ability to send invitations via invites@scorm.com. This may help when there is a problem with mail systems that have implemented DMARC and strict DKIM key checking.
This option is available via the Send From dropdown when you create a invitation.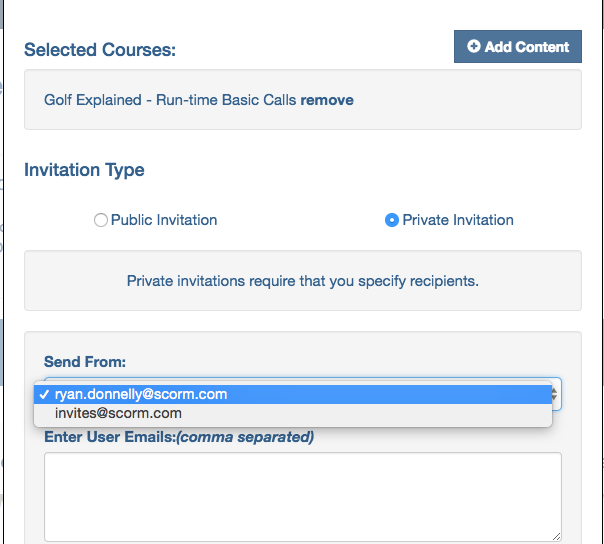 If all else fails...
We've added the ability to send the learner a direct link to launch the course. You'll see it on the invitation page next to the `Resend` button.

If you are still having trouble with emails, give us a shout. We'll be happy to help sort this out for you.